Journey: Eugene Barter, 'Blackbirds Baked in a Pie'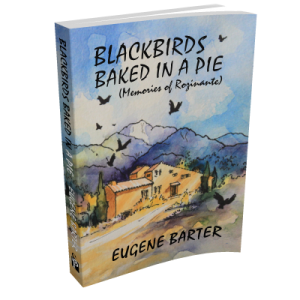 We thought that every now and then it might be nice to tell you a bit about our authors, how they came to us, and their journey with us.
At age 60 Eugene Barter, along with her sister and brother-in-law, moved to a house in the foothills of the Pyrenees to start an auberge. This is the story of her experiences. Humorous and often self-mocking, always gentle and quirky, Eugene takes us on a journey through the countryside and its people, Catalans and French alike, with a good dose of her German and English guests thrown in. Her love of the region shines from the pages – surely a timeless joy for all ages.
The second half of the book focuses on the recipes with which Eugene used to feed her guests, though still interleaved with her engaging anecdotes. English, Catalan and French recipes, all easy to follow, sit side by side, and there are conversion charts to help step through the metric and imperial standards, and maintain that essential entente cordiale!
Click the book cover to visit the Amazon page, or click this link: getbook.at/Blackbirds
Born in Penarth, South Wales, Eugene Barter left school at 16 to work as a trainee journalist on two local newspapers, in the days when discrimination against women in the workplace made the job twice the challenge it was for male colleagues. Moving on to an assignment in Holland at a Unesco conference, she stayed on for two years, learning the language and working with companies in Amsterdam struggling to get back on their feet after the horrors of the Second World War. Studying with the Open University in her late forties, she became a Tutor/Counsellor after graduating, before moving briefly back into journalism, then working in the House of Commons – eventually becoming Senior Secretary to Sir Edward Heath. In her sixties, she took on the running of an auberge in France, and her first book, Blackbirds Baked in a Pie, is a lively and affectionate account of her time there.
Eugene's manuscript arrived, in paper form, quite early in our lives at Sunpenny. I loved it straight away, but due to our list being quite crowded at the time, it was a while before we actually published it in 2013, when Eugene was in her mid-eighties. Full of energy, she would pack a wheeled suitcase with her books and catch buses and/or trains to give talks and book signings as far afield as London. She telephoned for engagements with the Women's Institutes in various towns, and the Conservative Women's Club, who all loved her and invited her back, so she was kept quite busy, and her book deservedly sold well.
Eugene now lives in a small village in Wales, near Abergavenny, in a lovely, peaceful cottage overlooking a valley of farm fields, with sheep who venture right up to the fence to be noticed. Idyllic! She shares the property with her son. She is currently working on a book about her time with Ted Heath, no doubt with as much, or more, humour as in Blackbirds Baked in a Pie!